ORTHODONTICS
Orthodontics is one of the branch of dentistry which specialises in the diagnosis, prevention and treatment of problems in the alignment of teeth and jaws.
Orthodontic treatment is a way of straightening or moving teeth, to improve the appearance of the teeth and how they work. It can also help to look after the long-term health of the teeth, gums and jaw joints, by spreading the biting pressure over all the teeth.
Orthodontic treatment can be performed at any age.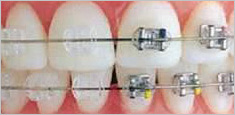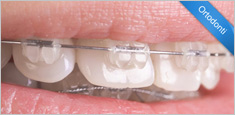 The goal of orthodontic treatment
is a good bite-meaning straight teeth that mesh well with the teeth in the opposite jaw. A good bite makes it easier for you to bite, chew and speak. This can enhance your dental health and your overall health, and may improve self-esteem.
Braces are the most efficient and accurate way of moving teeth. Braces (bands, brackets and wires) are usually made of stainless steel and nickel-titanium although invisible clear brackets are available, usually at extra cost.
Patients then attend approximately every 4 weeks for adjustments, wire changes, etc.
Why Orthodotic treatment?
This treatment involves correcting bite problems and straightening teeth.
The objective is always to improve dental health to make it easier to keep your teeth healthy-looking for a lifetime.
If teeth are crowded, tipped or rotated, it is difficult to keep them clean. Teeth that are difficult to keep clean are more susceptible to both tooth decay and gum disease.
A bad bite can predispose a person excessive tooth wear or even to painful jaw muscle or jaw joint problems.