PERIODONTICS
Periodontics is the branch of dentistry that deals with the health of the foundational support of the teeth, namely the gums and bone.
Periodontal (Gum) Disease:
Periodontal disease broadly includes gingivitis and periodontitis.
Gingivitis
The longer plaque and tartar are on teeth, the more harmful they become. The bacteria cause inflammation of the gums that is called "gingivitis" Symptoms may include redness, puffy and swollen gums. Gums will often bleeding during tooth brushing or at other times.
| | | |
| --- | --- | --- |
| Low grade gingivitis | Advanced gingivitis | Healthy Teeth |
Healty gums:
The gums are firm and pink. The bone is healthy and supports the teeth.
Periodontitis
When gingivitis is not treated, it can advance to "periodontitis" (which means "inflammation around the tooth"). Symptoms may include red or swollen gums, bleeding when brushing or at other times, receding gums (roots become exposed and teeth begin to look longer), bad breath, aching itchy sore or tender gums.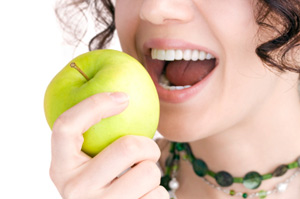 Periodontal surgery:
Osseous Surgery
Gingival Grafts
Gingival Flap Procedure
Frenectomy
Gingivectomy
Guided Tissue Regeneration/Bone Augmentation
Post Operative Instructions following Periodontal Surgery
Pretreatment and Pocket Elimination After Surgery
Before and after Periodantal Therapy

How to prevent gum disease: You usually can prevent gum disease by brushing and flossing regularly, having regular dental visits for exams and cleaning, and eating a balanced diet.
You can smile more often
"The world always looks brighter from behind a smile."