TURKEY TRAVEL HEALTH


TURKEY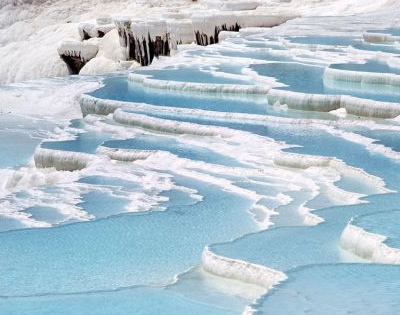 Turkey has so much to offer her visitors; breathtaking natural beauties, unique historical and archaeological sites, steadily improving hotel and touristic infrastructure and a tradition of hospitality and competitive prices. Therefore, it is not surprising that this country has recently become one of the world's most popular tourism destinations. Due to Turkey's diverse geography, one can experience four different climates in any one day.
The rectangular shaped country is surrounded on three sides by three different seas. Its shores are laced with beaches, bays, coves, ports, islands and peninsulas. The summers are long, lasting as long as eight months in some areas. Turkey is also blessed with majestic mountains and valleys, lakes, rivers, waterfalls and grottoes perfect for winter and summer tourism and sports of all kinds.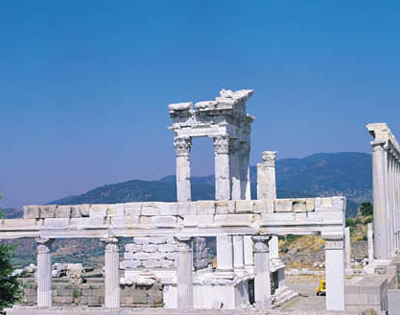 Turkish Culture is unique in the world in that it has influenced and has been influenced in return by cultures and civilizations from China to Vienna and from Russian steps to North Africa for over a millennia. Turkish culture reflects this unparalleled cultural richness and diversity, and remains mostly shaped.
Why consider Turkey for medical tourism?
Every year millions of tourists come to Turkey for health purposes and Turkey gains very important revenue. In addition to this, Turkey has important developments in medical tourism. In recent years, more and more patients choose health institutions in Turkey for treatments.
For more information: www.healthinturkey.org
The main reason, institutions can make modern medical operations with fair prices like other countries.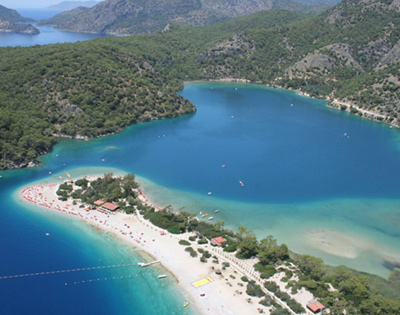 Foreign patients from all over the world come to Turkey to health institutions for plastic surgery, eye operations, hair plantation, fertility, open heart operations, dermatology, cancer treatments, brain surgery, orthopedics, dental operations, etc. for lower prices with high-tech standards.
Turkey is presently recognized as a competitive and high technology healthcare destination treating thousands of foreign patients from Europe and neighboring countries every month.
The hospital system is coordinated by the Turkish Ministry of Health.
For more information about Turkey health tourism, please visit this link: (Republic of Turkey The Ministry of Health)
Denizli is located in the southwest of the Aegean Peninsula. It is one of Turkey's 81 provinces, and also the name of the major city in the province. The southwest Aegean Region is a pathway from central Anatolia to the Mediterranean Region.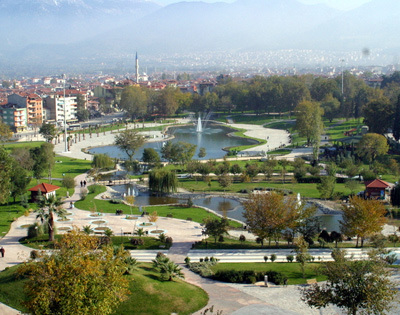 Denizli famous with roosters, has rich history and culture. Denizli is a tourism center to be seen with its Hierapolis and Laodikeia, Tripolis, antic cities, hot springs and Pamukkale which is unique in the world with its travertines.
DENİZLİ
Large Map
By Road In the summer, Pamukkale has some direct bus services to many parts of the country, although most transfer to another in Denizli. From Denizli, there are regular services to Istanbul (12 hours), Ankara (7 hours), Selcuk (3 hours) and Izmir (4 hours), Antalya (3 hours) as well as most resorts on the south coast.
Denizli Bus Station
Tel: (+90 258) 261 10 88.
By Air Çardak Airport, near Denizli, is 65km east of Pamukkale, and has a daily flight to Istanbul.
Airport Tel: (+90 258) 851 20 84.
PAMUKKALE TRAVERTINES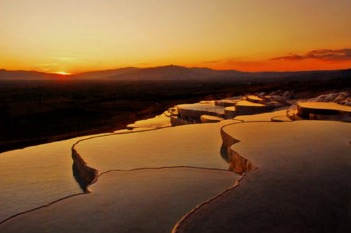 Turkey lies on the Anatolian peninsula, surrounded by seas on 3 sides and mountains on the other. In this setting, you can find an enormous variety of climate and natural effects. Among this variety, there are some gifts and amazing works of nature that you can`t see anywhere else in the world.
Pamukkale is one of Turkey's incomparable natural wonder with the calcium cascade terraces of snow white stalactites and is known as 8th wonder of the World by Turkish people. Pamukkale & Hierapolis together are both recognized as UNESCO World Heritage Sites since 1988. They have all the conditions required for an ideal touristic resort. Pamukkale means "Cotton Castle" but had many different uncommon names in the past. Pamukkale is very well known with the entrancing beauty of its unique geological formation and also with its historical remains.
The thermal springs at Pamukkale which give rise to these geological phenomena cover a wide area. In this area, there are several hot water springs which have a temperature between 35 and 100 degrees. The thermal springs of Pamukkale form an integral part of the regions potential for tourism and have been popular since ancient times.
Video about Pamukkale:
KARAHAYIT THERMAL SPA
5 km from Pamukkale. Karahayit Town of the north. Water temperature more than the waters of Pamukkale, free carbon dioxide less radioactivity is high. Heart diseases, arteriosclerosis, high blood pressure, rheumatism, sciatica, skin and nerve diseases, some, limbo, scabies, acne, itching and so on. healing diseases.
REPUBLIC OF TURKEY MINISTRY OF CULTURE AND TOURISM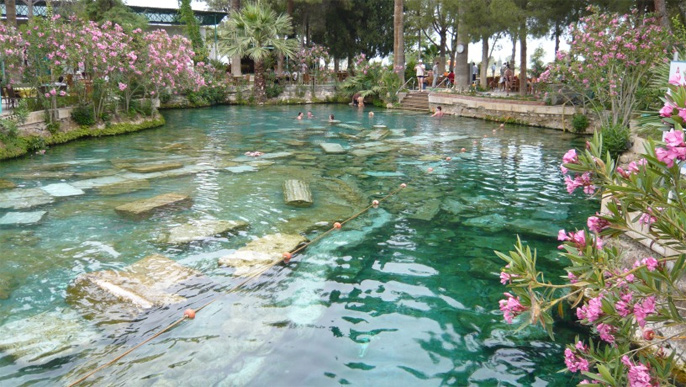 Hierapolis Antique Pool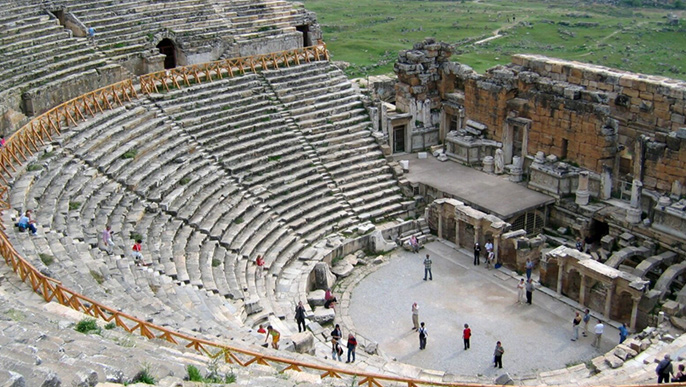 Theatre at Hierapolis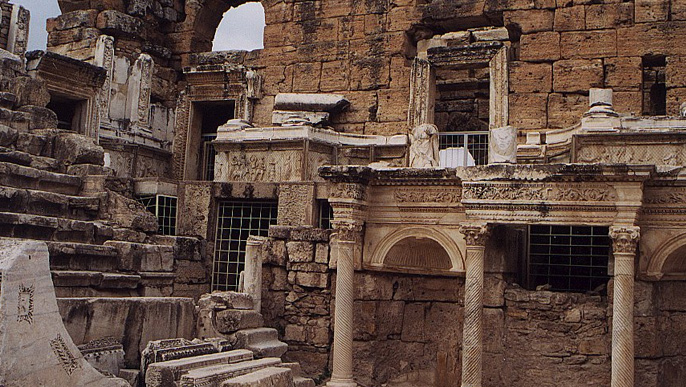 Hierapolis
Laodikia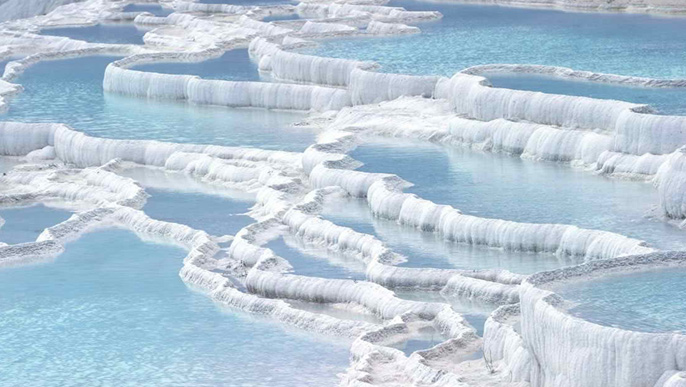 Pamukkale Travertines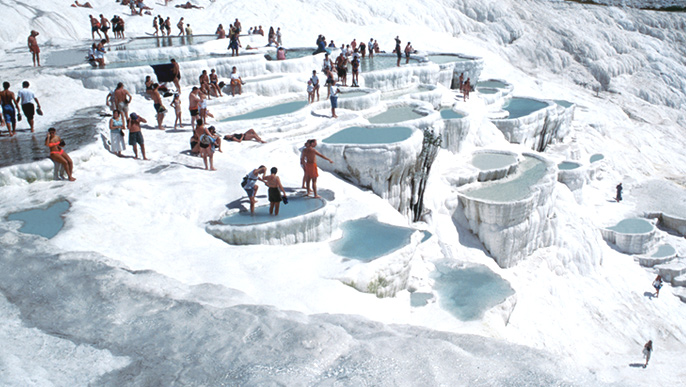 Pamukkale Travertines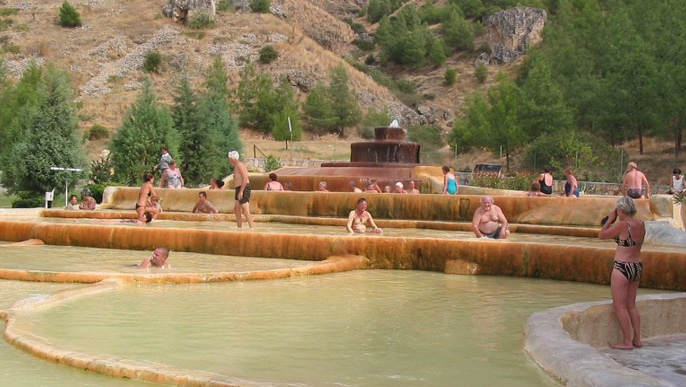 Karahayıt Thermal Springs (SPA)